The College of Architecture and Urban Planning of Tongji University and the Faculty of the Built Environment of the University of New South Wales are now working together to establish 2+2 dual bachelor degrees program in Architecture. Teaching team is led by Prof. Glenn Murcutt from University of New South Wales, the only laureate of Pritzker Architecture Prize (Nobel Prize in Architecture) from Australia and Prof. Zhang Yonghe from Tongji University, who served on the judging panel of Pritzker Architecture Prize and received the Academy Award in Architecture from The American Academy of Arts and Letters. Students will graduate with bachelor degrees from both universities and are also eligible for architect qualification examinations in China, Australia and other commonwealth countries.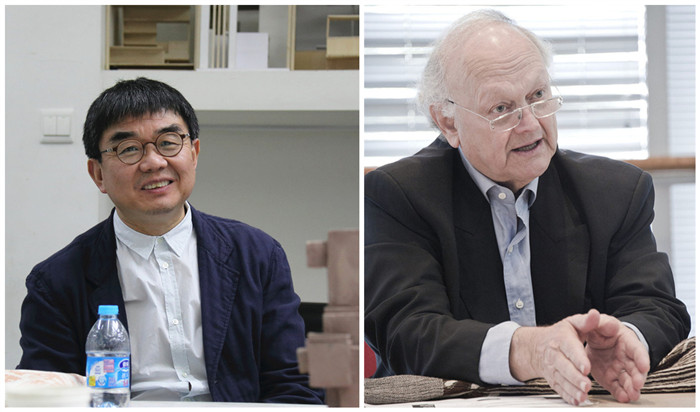 Duration of study: 4 Years
Students will spend the first three semesters in Tongji University and the fourth to seventh semesters in University of New South Wales and the eighth semester back in Tongji University.
Degree to be awarded:
The student who has fulfilled all the courses requirements will be awarded the Tongji Bachelor of Engineering (Architecture) and UNSW Bachelor of Architectural Studies.
Objective of the Program:
The specialized education ought to meet the needs of state building, internationalized education and social development in the future. Students should have a solid professional foundation, wide knowledge and high comprehensive quality. They should master basic theories; basic knowledge and basic design methods of the architecture science, and possess professional qualities of a qualified architect, remarkable hands-on abilities and an international perspective. They should also strive to be creative pioneers in new fields and professional leaders in the architecture field.
How to apply: See attached Recruitment Plan and Online Application Guide
Admission Requirements:
1. Over 18 years old, high school graduate or above, non-Chinese citizen, and in good health.
Note: Since 2010,those who immigrated to other countries from the Mainland China, Hong Kong, Macao or Taiwan and applying to study in Tongji University as international students, should meet the following additional requirements: the applicants must hold valid passport or other relevant international recognized documents for at least 4 years; meanwhile, in the latest 4 years (by each April 30th of the year of University registration), the applicants must have lived overseas for 2 years (Living overseas for 9 months can be converted to 1 year, which is subject to the exit-entry stamp on visa.).
2. High school graduation certificate. If the certificate is not in Chinese or English, the notarized translated versions must be submitted.
Certificate of expected graduation issued by senior high school (for applicants who will be graduating from senior high school in July only). Senior high school diploma is required to be verified and notarized documents must be submitted at the registration.
3. Original or notarized academic records of senior high school. If the academic records are not in Chinese or English, the notarized translated versions must be submitted.
* The photocopy of the certificate or academic records should be authenticated by local Chinese Embassy or local Chinese Consulates (or foreign embassies or consulates in China).
4. Copy of International Baccalaureate (IB), Australian ATAR, GCE A Levels, SAT1,etc. foreign entrance examination transcript; entry requirements pls refer to recruitment plan.
5. Copy of English Language Certificate(Students can provide Language Certificate at the registration day).
IELTS : 6.5 and above (MIN. 6.0 in each subtest), TOEFL (IBT): 90 and above, or other certificates that can prove equivalent English language proficiency, pls visit webpage http://www.unsw.edu.au/english-requirements-policy#english-language-tests for detailed information.
6. The portfolio
The portfolio is a selected collection of creative work that will provide initial evidence of your talent and potential in visual art, design, conceptual thinking and craftsmanship. This portfolio should be considered as a summary of your best creative outputs. It must be a maximum of five pages A4 format.
7. Applicants need to pass the joint interview before being admitted to this program.
For application and admission, pls contact:
Ling Yuchen,
Tel: +86 021 65983413, yuchen.ling@tongji.edu.cn
Dong Bijing,
Tel: +86 021 65983592*805, bijing@tongji.edu.cn
Websites:
Tongji International Student: http://study.tongji.edu.cn/
College of Architecture and Urban Planning, Tongji: https://caup.tongji.edu.cn/caupen
Faculty of Built Environment, UNSW: https://www.be.unsw.edu.au
Contact information:
Tongji:
Program director: Prof. ZHANG Jianlong, Email: zhangjl@tongji.edu.cn
Program coordinator: Associate Prof. CEN Wei, Email: cenwei@tongji.edu.cn
International Students Tutor: Ms. LING Yuchen, Email: yuchen.ling@tongji.edu.cn
UNSW:
Program coordinator: Dr. Raffaele Pernice Email: r.pernice@unsw.edu.au