In Celebration of Tongji University 110th anniversary and its 65th Anniversary, College of Architecture and Urban Planning (CAUP) of Tongji University held 2017 International Education Summit of Architecture/ Urban Planning/ Landscape on May 20th, 2017 at Bell Hall auditorium of CAUP Tongji, Shanghai.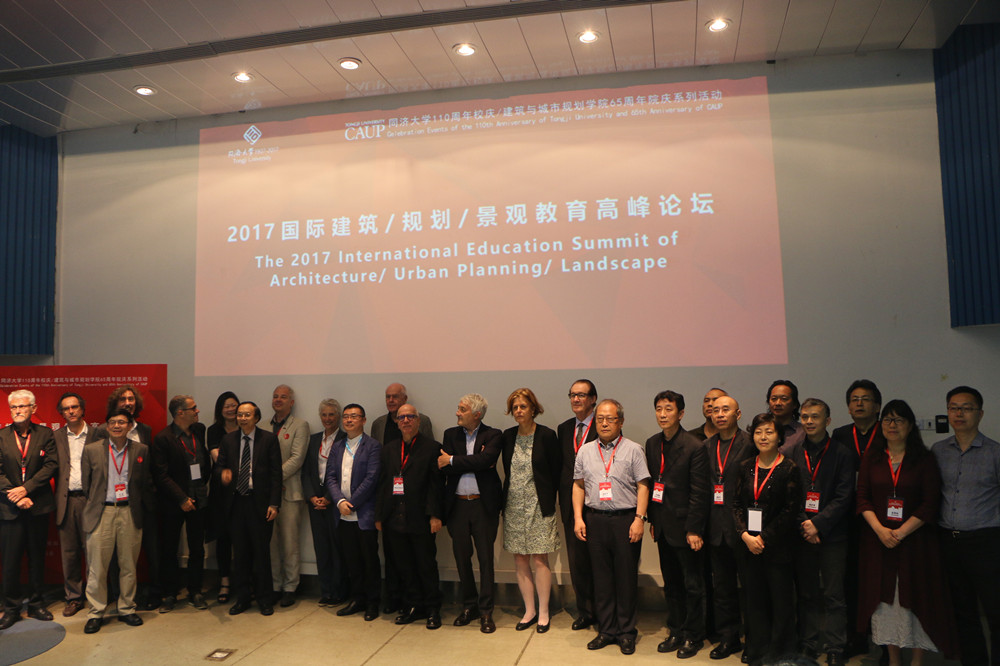 The Summit features keynote speeches and thought-provoking panel discussions under the theme of "THE CULTURAL LANDSCAPE OF CONTEMPORARY WORLD ARCHITECTURE" and "FUTURE OF URBAN PLANNING DISCIPLINE: WORLD AND CHINA".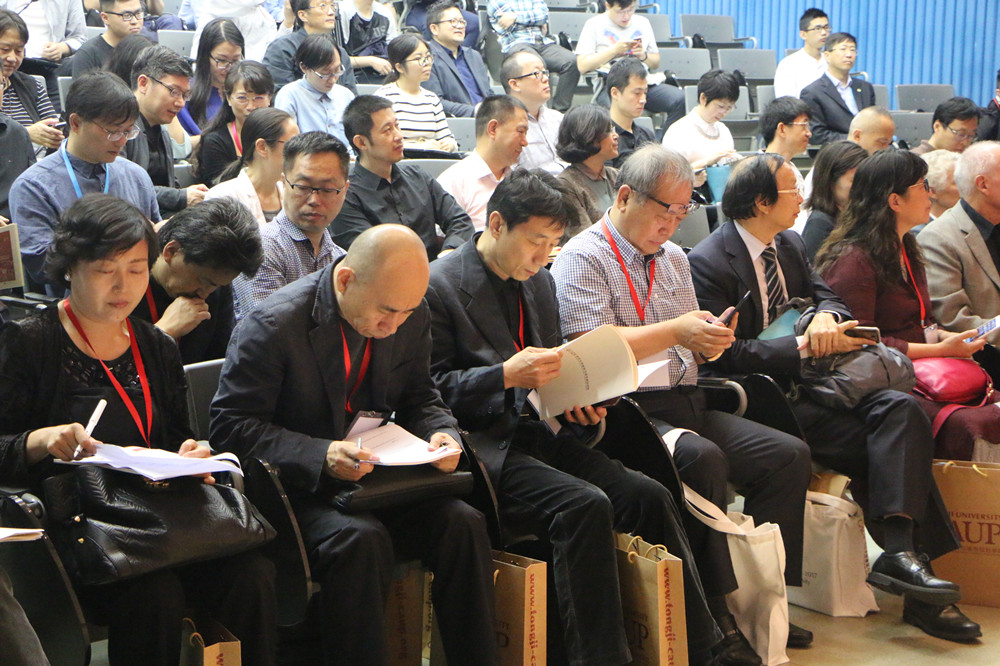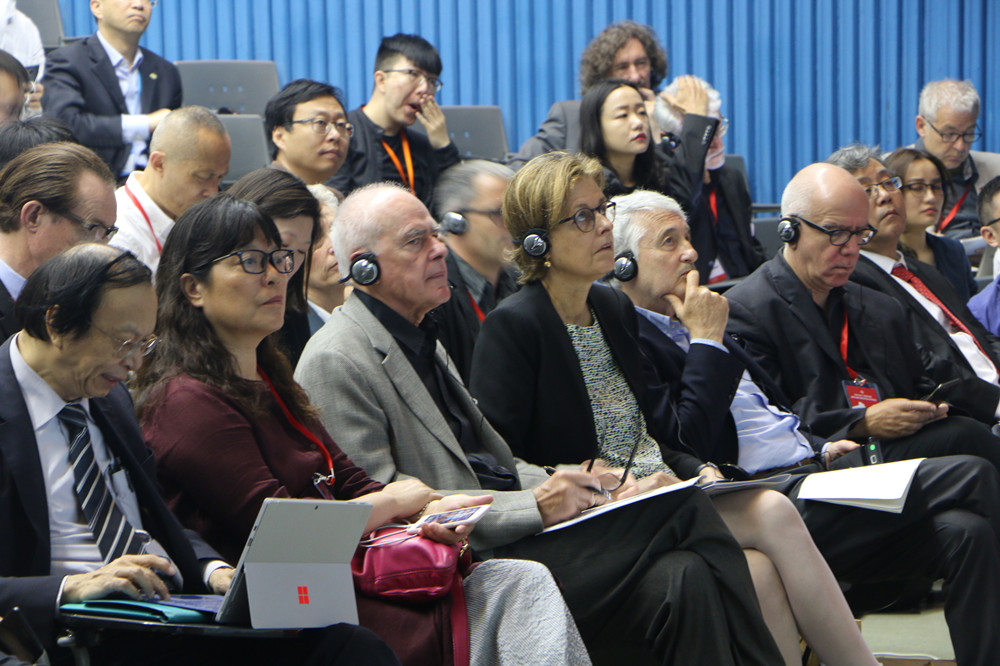 Bringing together heads of world and China's influential Architecture schools, the international summit explored the purpose and future of Architecture and Urban Planning education, the challenges Architecture Schools face to provide a balanced education in the modern technological world, and the ideas on how to enhance education impacts through innovative research and teaching for the benefit of the society and mankind.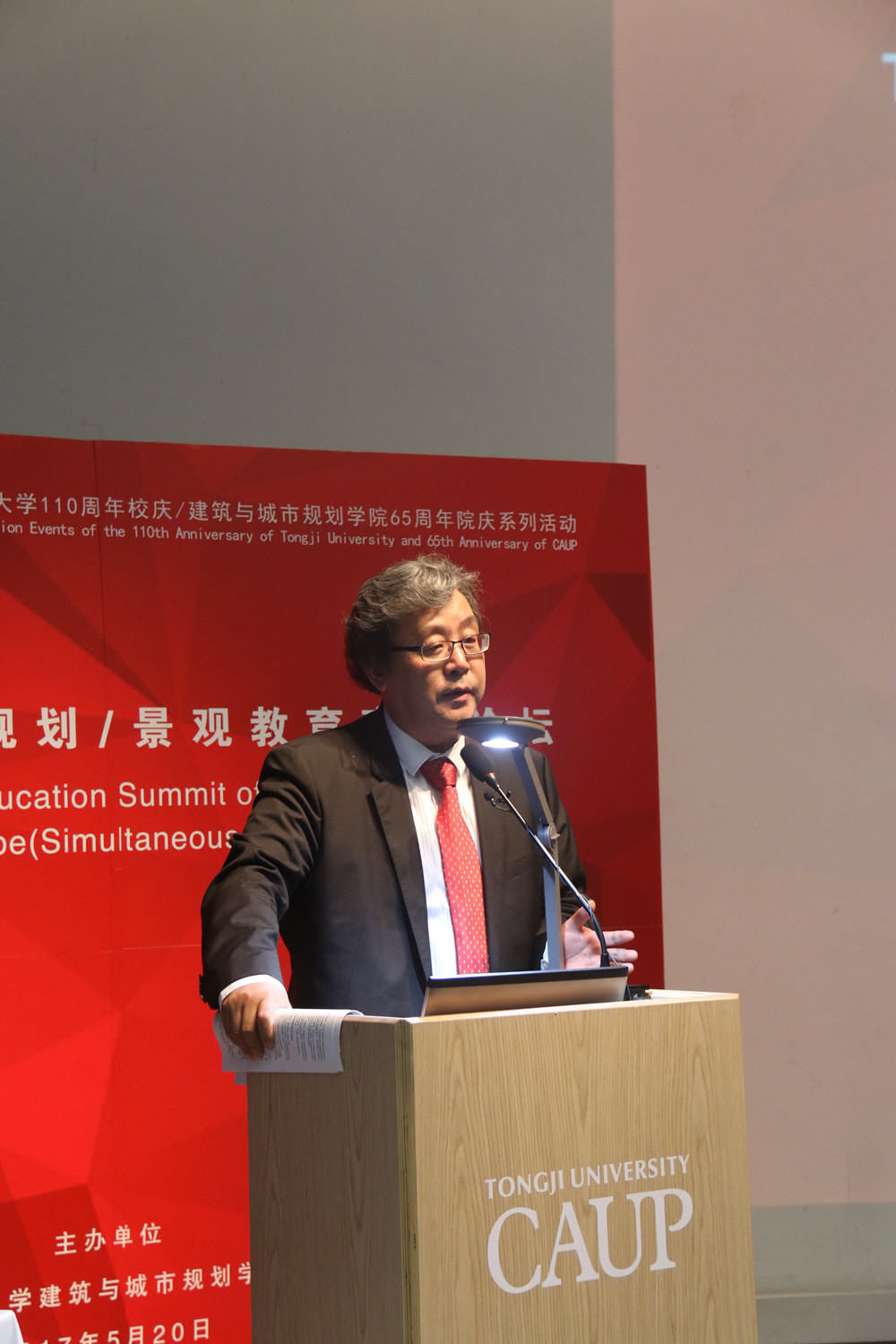 Vice president Prof. Wu Zhiqiang joined the Education Summit and addressed a welcome speech.
Full list of keynote speakers and distinguished guests for panel discussion
lProfessor Manuel BLANCO, Dean of the Superior Technical School of Architecture (ETSA), Universidad politécnica de madrid (UPM)
Topic: Challenges made in ETSA
lProfessor DU Chunlan, Dean of the Faculty of Architecture and Urban Planning, Chongqing University
Topic: The Revolution and Eternity of Architectural Education during the Transitional Period
lProfessor Carles CROSAS, Vice Dean of the Barcelona School of Architecture (ETSAB) , Universitat Politècnica de Catalunya (UPC)
Topic: Teaching [challenges]
lProfessor ZHUANG Weimin, Dean of the School of Architecture, Tsinghua University
Topic: Architectural Education and Challenge in China
lProfessor Alberto FERLENGA, Rector of the Università Iuav di Venezia
Topic: When the world changes, and the physical scenery- the cities, architecture and landscapes- change with it, how much does the university education of those involved in design need to change?
lProfessor HAN Dongqing, Dean of the School of Architecture, Southeast University
Topic: Features of Architectural Education
lProfessor John REDMOND, Dean of School of Architecture Planning, University of Sydney
Topic: TRANSFORMING ARCHITECTURE- the role of university education and research
lProfessor LI Zhenyu, Dean of the College of Architecture and Urban Planning, Tongji University
Topic: From Modernity to Contemporariness- 4 Lines of Architectural Education in Tongji University and Thinking for the Future
lProfessor Lei Zhendong, Deputy Dean of the Architecture College, Xi'an University of Architecture and Technology
Topic: Reflect on Architecture Education of Xi'an University of Architecture and Technology
lProfessor Bernd RUDOLF, Dean of Architecture School, Bauhaus – Universität Weimar
Topic: The experiment as a paradigm of modernism
lProfessor Mei Hongyuan, Dean of the School of Architecture, Harbin Institute of Technology
Topic: Simplicity is the ultimate sophistication: Tao and Way of architecture education in transition
lProfessor Jennifer WOLCH, Dean of the College of Environmental Design, UC Berkeley
Topic: STRETCH I JUMP I MIX: Urban Planning & Pedagogy for the Future
lProfessor SUN Yimin, Deputy Dean of the School of Architecture, South China University of Technology
Topic: Looking for the intelligent light
lProfessor J. Meejin YOON, Head of the Department of Architecture, Massachusetts Institute of Technology (MIT)
Topic: MIT Architecture- PEDAGOGY AND TECHNOLOGY
lProfessor ZHANG Qi, Dean of the School of Architecture, Tianjin University
Topic: Architecture in Transformation- Change and Not: Future-Oriented Architectural Education
lDr. Claudia PERREN, Director and CEO of the Bauhaus Dessau Foundation
Topic: Bauhaus Dessau
lProfessor Martino STIERLI, The Philip Johnson Chief Curator of Architecture and Design, the Museum of Modern Art (MoMA)
Topic: MoMA in the Cultural Landscape of Contemporary World Architecture
lProfessor Stefano BOERI, School of Architecture Urban Planning Construction Engineering, Politecnico di Milano, Chief Planner of Milan Expo 2015, Former Deputy Mayor of Milan
lProfessor Peter HERRLE, Technische Universität Berlin, Former Head of the Habitat Unit
lProfessor Thomas JOCHER, Director of the Institute of Housing and Design, Universität Stuttgart
lProfessor Yoshitsugu HAYASHI, Institute of Science and Technology Research Chubu University; President of World Conference on Transport Research Society (WCTRS)
Topic: A Trial for Education in a Horizontal Discipline- Basic and Clinical Environmental Studies
lProfessor MAO Qizhi, School of Architecture, Tsinghua University, Deputy Director of Urban-Rural Planning Specialty Steering Committee of the National Colleges and Universities
Topic: Future of Urban Planning Discipline: World and China
lProfessor Gert de ROO, Head of the Department of Spatial Planning and Environment at the Faculty of Spatial Sciences, University of Groningen, former President of the Association of European Schools of Planni