On 21stApril 2015, Prof. Stefano Boeri from the Polytechnic University of Milan visited CAUP, and gave a lecture named 'Milan Expo & Vertical Forest'.
Stefano Boeri is an Italian architect and urban planner; he earned a master's degree in architecture from polytechnic University of Milan and a PhD in Architecture from IUAV University of Venice. He is the professor of urban planning at Polytechnic University of Milan. Boeri was the editor in chief of the international magazine Domus, and now is the editor in chief of theTomorrow. Between 2011 and 2013, Stefano Boeri has been appointed Executive Councilor for culture, Boeri was also appointed to be the 2015 Milan Expo urban consultancy.
The lecture by Stefano Boeri was spectacular, it reflects the relevance between architecture and politics, explores the relationship between research and practice. Stefano Boeri talks about eco city and Green building throuh his own practice, exploring the integration of Interdisciplinary research method with all the audience. Though the lecture was talking about the apperception of Prof. Boeri's personal academic and practical experience, it did touch the core of the architecture study.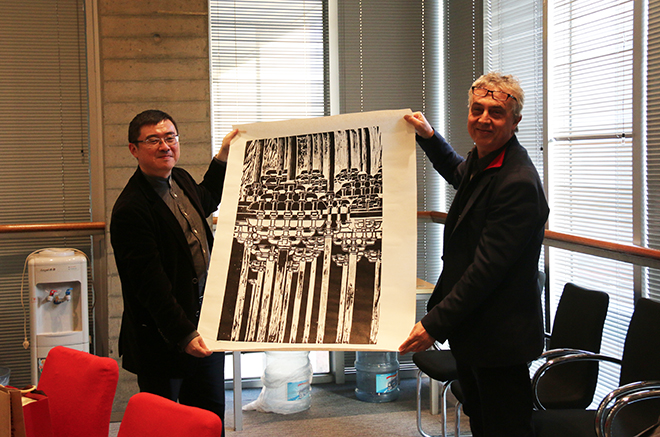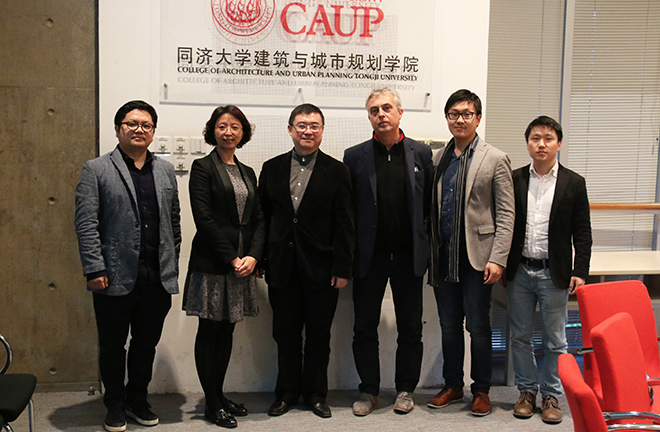 Before the lecture, Dean Prof. LI Zhenyu met with Prof. Stefano Boeri. The director of Landscape department Prof. Han Feng, Prof. Yuan Feng from the architecture department, the deputy director of the CAUP international office Dr. Zhou Minghao also joined the meeting. Dean Prof. LI Zhenyu introduced CAUP to Boeri, including the future development and international cooperation. Dean Prof. LI Zhenyu also invited him to co-organize some international academic events to improve the academic research level and international level of CAUP. Prof. Boeri was v was thankful for Dean Prof. LI's warmly invite, Both parties are looking forward to build a long-term relationship in the fields of research and recruit talented architects.
After the lecture, Dean Prof. LI Zhenyu showed Prof. Boeri the Yuanfeng Studio. Boeri thinks that Prof. Yuan Feng explored the high tech digital architecture, which represents the future trend of the architecture development.