The Shanghai Summer School (SSS) is sponsored by Shanghai Municipal Education Commission and organized by Tongji University annually since 2011.
In 2022, the Shanghai Summer School will be hosted by the Sino-Italian Campus of Tongji University. The theme of the program will be "Shaping the Community of the Future through a Sustainable Campus", which engages multifaceted perspectives and interdisciplinary studies across the fields of environmental studies, architecture, design, social governance, intellectual property rights, and intelligent information technology. The program will rethink the practice of the concept of green and sustainable development as well as the application of a system comprising new technology, interaction, service, and education in the process of building a sustainable campus for the future community. It will explore the possibility of a future community that meets the requirements of socio-economic development and infuses the concept of sustainability into campus culture.
The Summer School program is divided into four main sections: open lectures, workshops (4 parallel workshops), city exploration, and Chinese language and culture. In the open lectures section, experts and professors from universities and industries at home and abroad will be invited to give a series of 9 themed lectures onlline. Students and faculty members from Tongji University or without are all welcome to take active part.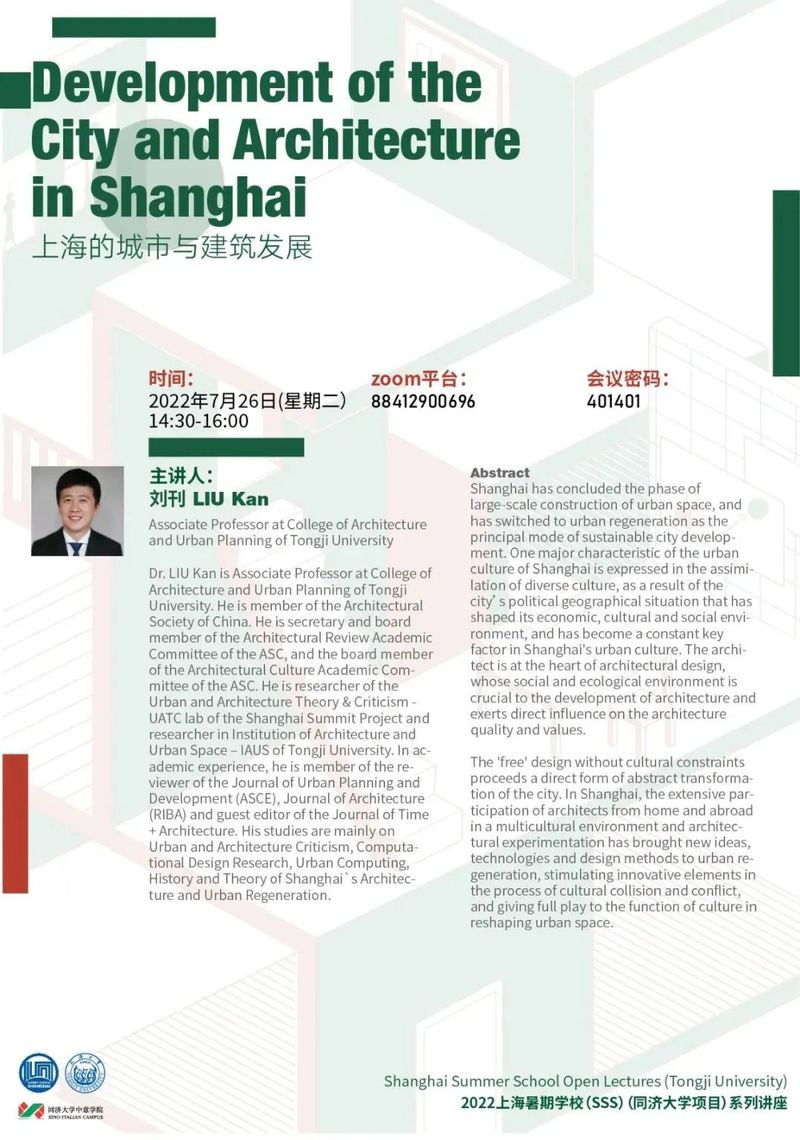 Abstract
Shanghai has concluded the phase of large-scale construction of urban space, and has switched to urban regeneration as the principal mode of sustainable city development. One major characteristic of the urban culture of Shanghai is expressed in the assimilation of diverse culture, as a result of the city's political geographical situation that has shaped its economic, cultural and social environment, and has become a constant key factor in Shanghai's urban culture. The architect is at the heart of architectural design, whose social and ecological environment is crucial to the development of architecture and exerts direct influence on the architecture quality and values.
The 'free' design without cultural constraints proceeds a direct form of abstract transformation of the city. In Shanghai, the extensive participation of architects from home and abroad in a multicultural environment and architectural experimentation has brought new ideas, technologies and design methods to urban regeneration, stimulating innovative elements in the process of cultural collision and conflict, and giving full play to the function of culture in reshaping urban space.